Geekvape Aegis Legend Review
2021-03-08
The latest Aegis Legend suit from Geekvape adopts a brand-new design. Although the overall design inherits some of the characteristics of the previous generation, the performance is even better. According to the official announcement, the maximum output power of Aegis Legend can reach 200W, powered by dual 18650 batteries. The official promise that the new Aegis Legend will be more durable than the previous Aegis console, and will not make any compromises in the design.
Device parameters:

Dimensions: 90.5 x 58 x 30.6 mm; 200W maximum output power; output mode: VW / VPC / TC / TCR / BYPASS / VPC; 0.05-3.0ohm resistance range; material: aluminum + zinc alloy + silica gel; dual 18650 battery power supply; IP67 waterproof and dustproof; MIL STD 810G-516.6 military-grade shockproof

The previous generation of Aegis equipment already has indestructible quality. Last year, we soaked Aegis in e-liquid and beer for an hour, tried to drop the equipment from the sixth floor, and used a 6-ton truck to carry out a rolling test. Aegis was still usable. It wasn't until we put Aegis in ice cubes to freeze it, and the water entered the equipment and damaged the circuit board, the life of the host came to an end.

It is said that the new dual battery Aegis Legend console is more durable than the previous generation Aegis, but its only weakness is the battery compartment cover-due to the dual battery configuration of the device, the designer cannot copy the battery compartment design of the previous generation Aegis. Therefore, they use a safety latch design on the battery compartment cover-but they also advise players not to drop the device more than one meter, because multiple drops from high places may damage the battery or affect the waterproof performance of the device.

Probably because of the size factor, Aegis Legend only supports the use of 18650 batteries. Legend is not like the previous generation products that can be charged or upgraded through the USB interface. Although the function of USB direct charging is simple and convenient to use, many battery experts still recommend that players use special chargers to charge the battery.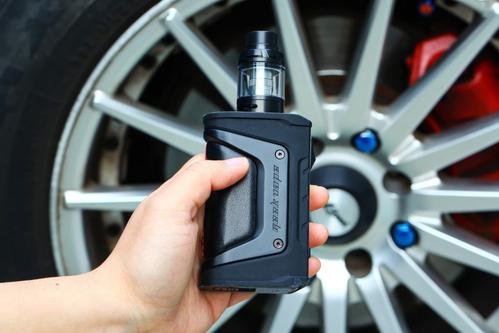 What is sold with the host device is the Aero Mesh finished atomizer from Geekvape, which is an upgraded version of the previous generation Aero Tank. Aero Mesh is equipped with a bubble bin with a 5ml oil storage capacity and a new KA1 finished mesh core. Aero Mesh will be compatible with IM coils and SMOK TFV 8 Baby coils.

Customer Support
Other Informations
User Center
Newsletter