GEEKVAPE AMMIT MTL RDA | Unexpectedly outstanding
2021-02-02
Introduction to GEEKVAPE AMMIT MTL RDA
Ammit is a 22mm diameter single-shot RDA, which uses the unique 3D airflow design of Geekvape. The top air intake system has a built-in air duct, which can guide air flow from below the coil in 3 directions.
It has 12 air intake adjustment options, so it can meet the needs of any type of mouth suction or even lung suction. It is also equipped with 3 different styles of drip nozzles and a bottom filling screw.


D
esign
Ammit uses a top air intake design, which means that even if it is filled with smoke oil, the location of the air intake makes it almost impossible to leak. The air intake adjustment ring is designed with a long hole on one side and a single hole on the other side. With the air holes of the outer compartment, you can have 12 air intake adjustment modes, allowing you to fine-tune the air intake completely.
It is also equipped with a series of drip nozzles. There are 3 different 510 drip nozzle settings with apertures ranging from 3mm to 2mm, which makes it a versatile RDA. Ammit is compatible and comes with a bottom lubrication screw. The oil tank is located at the gap between the electrode column and the air hole, and the depth is ideal. It can also be used as dripping oil, a 2ml oil tank is more than enough. However, due to the positioning of the 3D airflow, you will find that part of the e-liquid easily flows into the inlet.


Style
In today's era when the RDA is either short or too beautiful and tall, we are very happy to see the appropriate height design of the Ammit MTL RDA. It looks very comfortable. This is a neat, elegant and moderate RDA. It has both straight edges and a conical shape. The outer warehouse has only one LOGO, which is the symbol of Ammit, like a crocodile, or maybe a monster.
I always feel that a lot of mouthfuls look a bit awkward, and they don't fit well on RDA. But Geekvape does a good job in this regard, and the drip nozzle continues the overall style of the atomizer. I also think these official colors are very good, and every Ammit is very beautiful.
Geekvape also successfully joined the ranks of low-power taste atomizers this year. There is a familiar name in their product line, and that is Ammit MTL RDA.
Ammit MTL RDA is a single-shot atomizer with a diameter of 22mm and is specially designed for mouth suction. However, this may not be the case. Ammit actually has 12 different air intake settings, from tight mouth suction to comfortable restricted small lung suction. All this is provided through the highly acclaimed Geekvapes 3D airflow system, which is built around a double-post electrode column.
Quality
This is a Geekvape product, and its manufacturing process and quality must be better than your expectations.
The processing is perfect and smooth, and the entire RDA has no sharp edges. The tolerance of the joint between the rubber ring and the top cover is very good, and it may be slightly tighter. The outer warehouse is also strong enough to prevent accidental drops.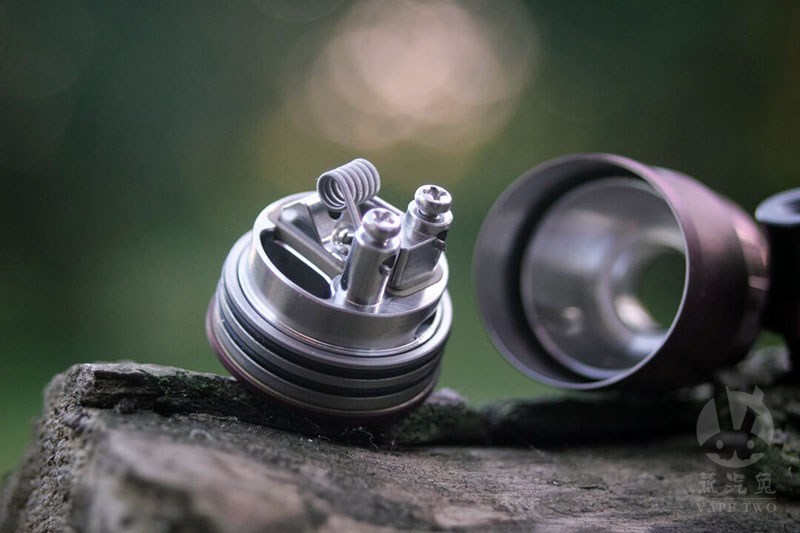 Innovation
There is no direct innovative design, but Geekvape has been promoting their 3D airflow design in many devices, and I am very happy to see it on this RDA. They are also very clever in design. In the case of supporting 3D air intake, they still maintain the compactness of the atomizer, while also supporting bottom oil injection.

Looking at the design of the air intake, it really shouldn't exist for mouth suction, but that's the fact. Either I don't know anything about air intake design, or the design team of Geekvape has spent a lot of time researching and testing the final result of this design.


Geekvape's Ammit MTL RDA is an excellent RDA, and it performs well... even if I didn't think so at first.

You can get the rich taste and compact taste from a multi-air device, which puzzles me... Maybe this is the magic of Geekvape steam. I don't need to fully understand its principles to like it, as long as you use it, you should like it.

It is one of the mouthfeel atomizers with excellent appearance on the market. It has excellent manufacturing technology and quality. It can provide a very tight mouth suction experience, or it can provide a slightly restricted small lung suction experience, and it has Rich flavor and super smooth airflow.

I am really impressed with Ammit RDA. I highly recommend it to anyone who needs RDA for taste. You deserve it!


Customer Support
Other Informations
User Center
Newsletter